I'm optimistic I can complete the cardi it the next week or so. I'm off to the yarn lounge today as I need help with the neck line - the BO in the pattern doesn't make much sense. After that I just need to put on button bands and a neck and c'est fini!
Ben's wrist warmers were completed by his birthday and he loves them. He's been wearing them to aikido practice each time they are outdoors. They turned out really nice.
There are many projects waiting in the wings. I'm making a baby sweater out of the Blue Sky Cotton. The pattern is top-down from knitting pure & simple and should be fairly easy and fast.
I'm also making a lace scarf for Sangeeta. She bought some beautiful merino, which always tends to fly on the needles.
And, I have several sweaters I'm anxious to start. That probably won't happen till the beginning of the year.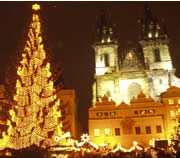 Because I've been working like a dog, I haven't even had time to post about my trip for Christmas! Ben and I are heading to Prague! I've been trying to scout out some yarn shops online, but everything is in Czech. Alas. We were initially going to Paris, as at least I could have spoken the language, but this will be more adventurous right? It's been really funny listening to us learn to say hello and goodbye in Czech :)